Shubham Sasane Enterprises LLP
You just found the most Trusted Company to take care of your
Facebook Ads,
Website,
Sales Funnel,
Social media,
and Automations!
The Founder of Shubham Sasane Enterprises LLP. You can either do it all by yourself and still struggle or let an Expert take care allowing you more Time and Freedom. I love helping goal-driven Entrepreneurs reach their maximum potential, using the Power of the Internet.
Ever since I realized the potential that the Internet has, I would always geek into different ways on how can I utilize it for the benefit of Businesses.
After working with businesses from almost all sorts of niches, I can definitely say that your Business should definitely use this gift.
I build and maintain amazing websites that are meant to convert a visitor into a paying customer. A solid, Secure, and Fast website defines the user journey. So I make sure it's done the right way.
Social Media is another crucial aspect of the growth of your business. How? Customer Relations. I build an awesome Social Media Presence for your Business with amazing strategies and creatives and advertisements.
On the Personal side, I am a person who believes in the Power of Giving, Power of Kindness, and Power of Relations. I am determined to give 10X the value that the client expects and pays for. Being Kind with each other's Business will help both the parties excel. Long term business relations turn out to be the most productive, it saves us from all the hassles.
Thriving for Excellence is my motto. Being Transparent is my specialty. Being Great is my GOAL!
Final thoughts, you showing Trust over me, is 100 times superior to anything else. Keeping up to your expectations is my RESPONSIBILITY.
Cheers! Be GREAT!
Testimonials
Real Words from Real People
Some content might be hidden due to Privacy
Click the links to view the website and funnel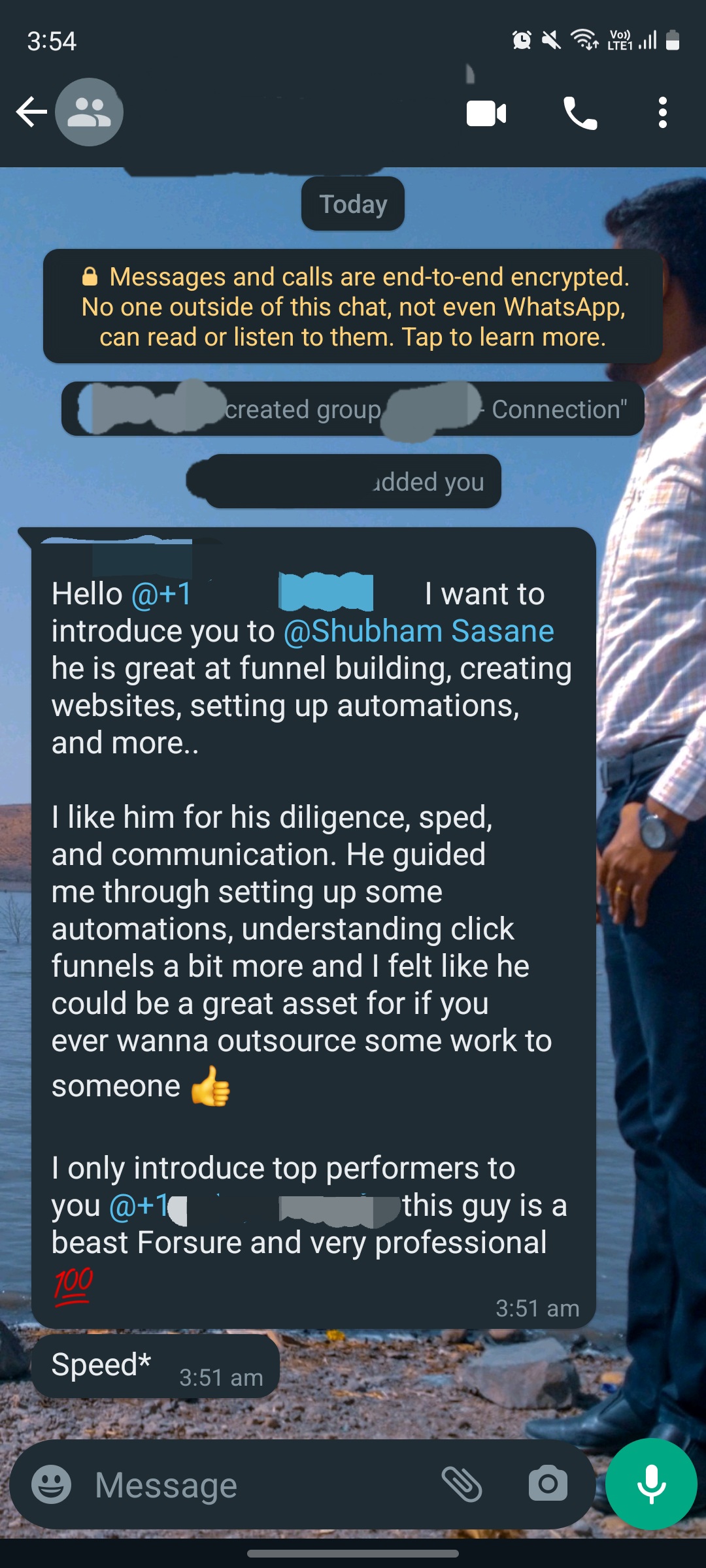 The motto I live by,
Make it so that when people remember you, they SMILE

! 🙂



That they were touched by you in a way that really left them with something to CHERISH.
If you have that, then you continue to live inside the hearts and minds of others in a way that you leave a POSITIVE IMPACT for many years to come.